3 great ways to wow your customers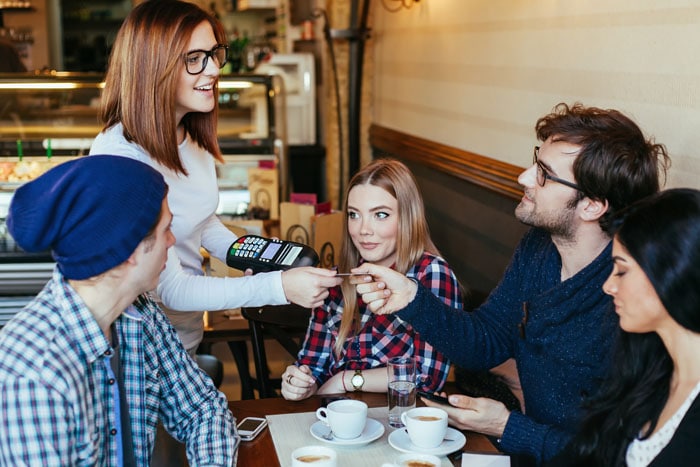 If you're a mobile trader, you're always going to be looking out for ways to wow your customers.  You may have thought about fancy table decorations, special offers, visually appealing merchandise and many more options. If you haven't already thought about these extra options/services, then they may help you wow your customers.
Take card payments 
It might sound pretty obvious, but lots of mobile traders currently don't take card payments.  Merchant services and card payment machines don't have to cost a lot of money.  In fact, we offer a wide range of solutions that are very affordable.
Customers sometimes don't carry lots of money with them, instead they will use their card. Taking card payments shows your customer that you are professional and that you want to offer a range of options.   You may get customers who wouldn't have purchased something from you otherwise, and also people may spend more with you when they know they can use their card over the money in their wallet/purses.
If you want to find out more about starting to take card payments, please visit https://www.wirelessterminalsolutions.co.uk/start-accepting-cards/
 Go contactless 
If you already have a card payment machine, it could be worthwhile investing in a new, contactless card payment machine.  This lets your customers who have contactless cards swipe or place their card on your machine without the need for chip and pin.  Safer for your customer and saves time over manually entering pins.  With over 17 million cards in circulation this can be a powerful option.
Contactless payments also gives your customer peace of mind and cuts down on fraudulent card transactions.
If you want to know more about contactless card payments, check out the information here at https://www.wirelessterminalsolutions.co.uk/card-machines/contactless/
 Cutting-edge technology 
If you want to combine your website stock inventory with the stock that you sell in person, think about getting a tablet/iPad with EPOS (Electronic Point Of Sale) software.  This lets you combine inventory so that when someone purchases something from you in person, your website shows 1 less in stock.  This can help you for those times when you run out of stock but your website lets an order go through thinking that you have enough stock to cover the order.  Your customers aren't disappointed and you have the peace of mind that such mistakes can't happen.
Another reason to use tablets/iPads to wow your customers is that they give your business a high-tech feel to them.  This is perfect if you are selling luxury products, or appeaering at events.
For more on tablet/iPad hire please visit https://www.wirelessterminalsolutions.co.uk/tablet-rental/.
By taking these actions, you could really set yourself aside from your rivals by offering faster, slicker payment methods and wow your customers with cutting-edge technology.  Wireless Terminal Solutions can help you with all three of these options, or even just one or two of them if you prefer.  Why not contact us  for a free quote to see how we can help you? https://www.wirelessterminalsolutions.co.uk/request-a-free-quote//